In focus: the latest scams
(and how to avoid them)
Sadly, digital fraud – AKA people trying to scam you – is a growing threat. Here's the latest info to help keep you safe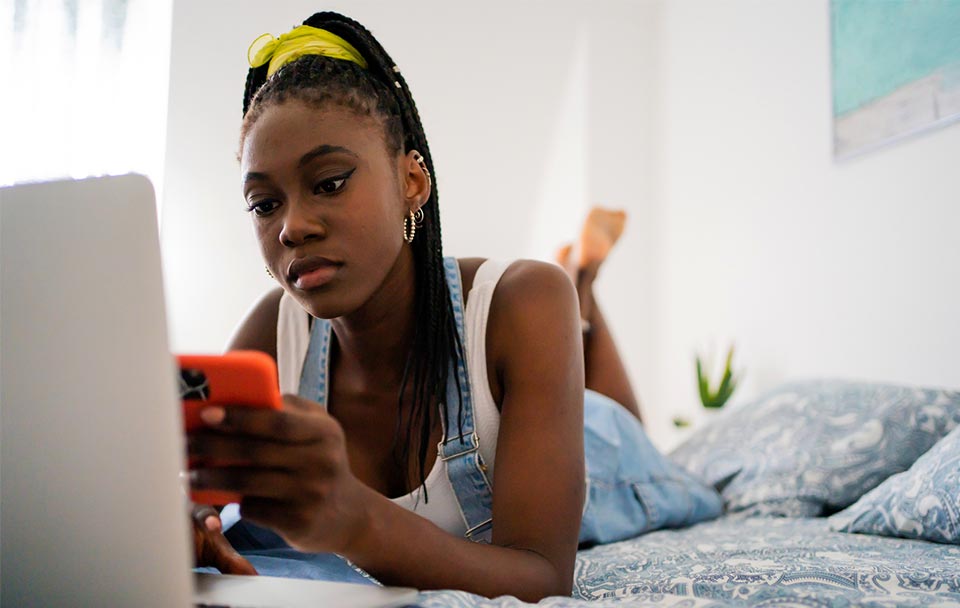 You've probably had at least one this week: a text message asking you to pay a mystery delivery charge, a random phone call asking for personal info or a social media post offering you the chance to get rich quick. What do they all have in common? They're most likely scams, where criminals try to gain your trust and then steal your money.
Sadly, it's a growing problem. More than two-thirds of British adults – that's 36 million people – were targeted by a scam between January and June 2021, according to research by Citizens Advice. And young adults are far from immune: Action Fraud found that over £16 million was lost to online shopping fraud during the first lockdown in 2020, with people aged 18-26 most at risk of being targeted.
So: what are the latest threats and what can you do to avoid becoming a victim of a scam?
The threat: smishing
What is it? A text message that appears to be from a well-known brand – think Royal Mail, Hermes or DPD. They'll usually be asking you to pay a small fee to arrange for delivery of a parcel, but the link will take you to a fake website where the scammers try and get sensitive info from you like your name, date of birth and bank details.
What should you do? Never respond to a message or click on an unexpected link from an unknown sender. And stay vigilant: some scam messages can appear within existing threads of contact with trusted organisations, so if in doubt, contact the brand directly to check if it's legit. If the message relates to NatWest, Royal Bank of Scotland or Ulster Bank, you can forward it to 88355, while anything else can be sent on to a free spam reporting service on 7726.
Already clicked on the link by accident? Don't panic, but make sure you act quickly: reset any passwords that you might have accidentally revealed and, if it's related to your bank, call them and explain what has happened.
The threat: mobile malware
What is it? A virus that can be used to 'infect' your device and send personal information from your phone, tablet or laptop to scammers. They're usually disguised as apps that users are encouraged to download. Recently, an example called Flubot has been sent via a smishing message and used to steal people's login details and banking info.
What should you do? Make sure anything you download onto your device is from a reputable app store like Google Play or Apple App Store and be sure to check your app permissions to ensure it sounds legit. Install antivirus software to help you identify any threats and before you download anything new, check it looks and seems authentic: are the logos and colours right? Is everything spelt correctly? What do the reviews say? You should also double-check the terms of any 'free' trials – set yourself reminders to cancel them before the trial is up to avoid fleeceware scams, which charge large sums for subscriptions after the initial free trial.
The threat: gaming scams
What is it? Like the mobile malware threat, scammers can trick gamers into downloading cheats and guides that then gather your personal information. Some will also offer new skins, colourful wallpapers and modifications for the game and then charge large sums of money to the gamer's account.
What should I do? Make sure you're only downloading games from real sources or app stores, and make sure you only share essential information. Use antivirus software wherever you can and try to keep in-game purchases to a minimum.
Find out more
There are, sadly, plenty of other scams you should watch out for, many of them taking place on social channels. To find out more, check out our video on how to stay safe on social media.