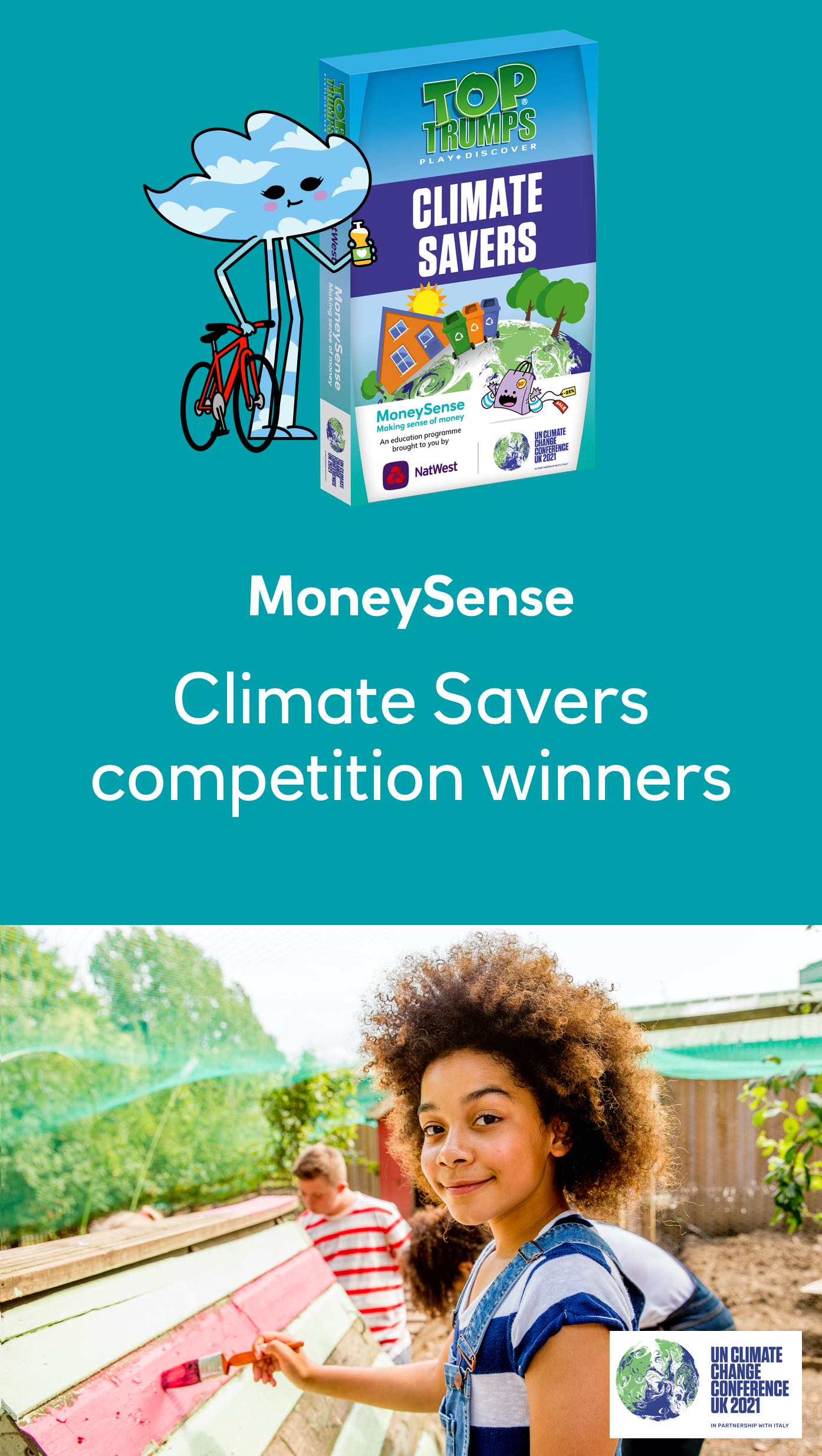 The 2021 UN Climate Change Conference (COP26) is coming to Glasgow, bringing world leaders from across the globe together to discuss what can be done to address the issue of climate change. NatWest is committed to tackling climate change and as a Principal Partner of COP26, we created the MoneySense Climate Savers competition for schools, offering pupils and teachers the chance to win great prizes.
Primary school pupils were challenged to create Top Trumps cards showing positive actions they could take to help the planet – and potentially save money at the same time. 26 winning designs (view gallery) were selected to be included in a special MoneySense Climate Savers edition of Top Trumps, distributed at COP26.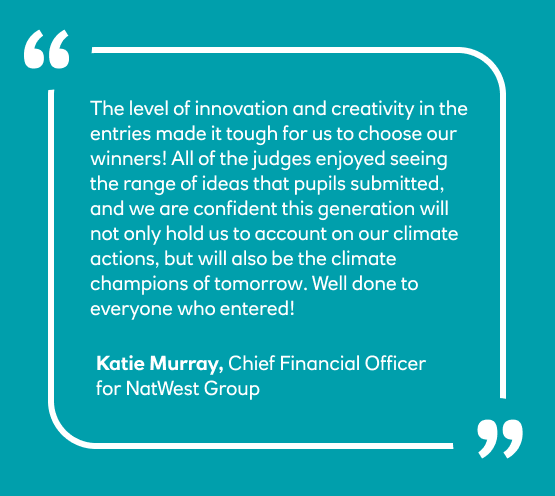 Congratulations to:
Alfie, Age 11, Hurlford Primary School
Amaya, Age 8, Gad's Hill School
Callum, Age 8, Crosshouse Primary School
Cara, Age 11, Hurlford Primary School
Dea, Age 8, Colville Primary School
Elliot, Age 11, Nields Junior Infant and Nursery School
Emily, Age 9, Pentland Primary School
Emma, Age 8, George Watson's College
Gabrielle, Age 10, Sacred Heart School Battersea
Grace, Age 9, YGG Cynwyd Sant
Grace, Age 11, Stow Primary School
Gurleen, Age 8, Hollygirt School
Hazel, Age 8, Stow Primary School
Honor, Age 11, Flora Stevenson Primary School
James, Age 10 , Meadow Bridge Primary School
Jessica, Age 10, Barnhill Primary School
Kate, Age 11, Meadow Bridge Primary School
Kieran, Age 10, Ladeside Primary School
Mabel, Age 8, Highfield Junior School
Mirren, Age 9, Pentland Primary School
Noah, Age 8, Ladeside Primary School
Rohan, Age 9, Coychurch (Llangrallo) Primary School
Sofia, Age 8, Colville Primary School
Stanley, Age 9, Invergowrie Primary School
Tianron, Age 9, Highfield Junior School
Tymon, Age 10, Oldfield Primary School
Teachers competition winners
In addition to the pupils' competition, we also gave teachers the chance to win money for environmentally sustainable projects for their schools when they entered their class into the competition.
Big congratulations to:
Charlotte Siggers – who wins £15,000 for Thomasson Memorial School, England
Jennifer Baird – who wins £7,000 for Our Lady of the Missions Primary School, Scotland
Amy Sprinks – who wins £4,000 for Brookfield Primary School, England

Get clued up on climate
With climate change in the news, you might be looking for fun activities to help your children engage with the issue, and MoneySense is here to help. Check out our climate-themed activities and advice. From challenging your child to become a climate change detective at home, to thinking about ways to save money while saving the planet, or tips on living sustainably as a student, we've got plenty of resources to keep your budding climate savers busy.
Images: iStock, Alok Sharma official portrait: UK Parliament/Attribution 3.0 Unported (CC BY 3.0)